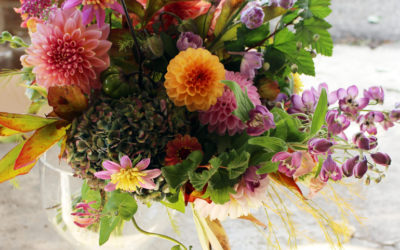 The End of the Fresh Flower Season As a farmer florist growing my own flowers, you can probably imagine what my flower cooler looks like once a good...
About Us
Thanks for stopping by! We are Steve and Marie and our three farmhands and some years ago, we bought a farm! At the time we thought we'd get a few chickens and grow some veggies; but as a former florist looking for a career change, Marie also planted some dahlias and this sparked a passion for garden-sourced floral design that has resulted in hundreds of cut flowers and year-round floral offerings.
In a similar fashion, we bought a few milking goats…now, we keep a quality herd of purebred registered Nigerian Dwarf goats!
We love watching our kids grow and enjoy farm and outdoor living in pastoral south Langley, British Columbia, Canada.
Join Us On Youtube!
Sharing the farmer florist life, cut flower gardening, floral design, and farm living with occasional appearances by our chickens and Nigerian Dwarf goats as we farm and play on almost 5 acres!
Designer Flowers from the Farm