From The Farm
Growing lots of flowers and a little food, homesteading with dairy goats and free-range farm kids.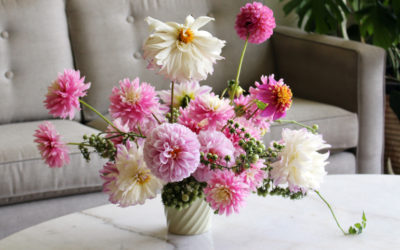 Why Dahlias Are The Ultimate Flowers For the Cutting Garden I've been growing dahlias for years. As an avid cut flower...
ABOUT THE FARMER
Marie van Hulsentop
Marie's parents attest that she has always had a deep affinity for animals, art, and nature. Growing up in horticulture, as a young teen she began a farm business with eggs and rabbits. After securing a B.Sc. in Environmental Science and a Minor in Studio Arts, her passion for animal husbandry and environmental care has led to to this: a small regenerative pasture-based farm. Throughout her life, she has continued to work in floral design. Alongside farming, she is a mom of three littles and a freelance web designer.