The End of the Fresh Flower Season
As a farmer florist growing my own flowers, you can probably imagine what my flower cooler looks like once a good frost rolls around at the end of the growing season. As soon as the season winds down, that cooler stands void of fresh flowers and instead gets turned into a tuber storage unit to carry my dahlia tubers safely through the winter. The way I rely on my living growing flower fields and gardens for the fresh cut flowers that I sell to my community means that as the days start to shorten and autumn starts to creep in, every day of fresh flower season that we get becomes more poignant for me.
Bumblebees on yellow marigolds and a crate of assorted gourds from the flower field in autumn.
Floral Pumpkin Centerpieces for Thanksgiving
The finite nature of the growing season makes those last few floral designs from the gardens all the more memorable. This fall we had a bit of a later frost and so I had the pleasure of many beautiful flowers to work with for our Canadian Thanksgiving in October, which allowed me to make the dreamiest floral pumpkin arrangements that I'm still smitten with a month later. If you want to see what I was harvesting late in the growing season and the up-style pumpkin designs that I came up with, you can watch my week of Thanksgiving floral design on YouTube here.
My Most Memorable Fall Floral Designs
Continuing onwards into the month of October and closer to our first strong frost that took out my dahlias in the last week of October, a couple of final floral designs in particular hold my fond feelings. Firstly, I had the pleasure of making a great big bountiful garden bouquet for a special occasion. As you may already know, hand-tied bouquets from the cutting garden are one of my favourite floral designs to make. There is something about building out a bouquet in hand that is so familiar and satisfying for me after all these years in flowers. But bouquets from the gardens are also special because the seasonal specificity of each makes them wholly unique, never to exist again. This is something that I have grown to love about seasonal floral design as a farmer florist – designing within the limitations of what is available to me at a particular point in time.
I always say, there is magic in this type of floral design and what I mean by that is that these designs have something special given to them by the garden, by the unique and unusual flowers and foliages that you wouldn't find in a flower shop or grocery store, and by the specialness of only existing in that specific combination on that particular day.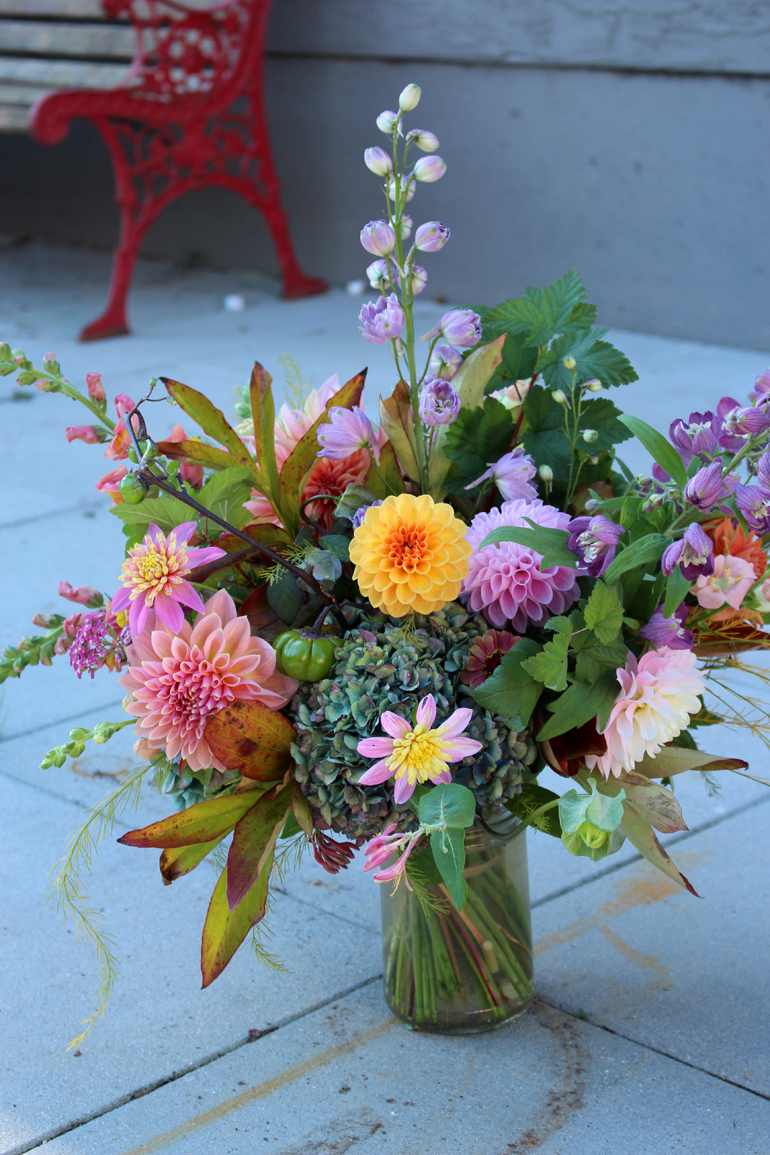 That last bouquet of the season was a beautiful gathering of autumn flowers and foliages.
Watch Me Make A Big Bouquet from the Cutting Gardens!
I so enjoyed making this last great big bouquet of dahlias, delphiniums, snapdragons, fall foliages, and other autumnal treasures and I wanted to share it with you as well, so I hope you enjoy this video from in the flower studio with me. I show you all of my bouquet ingredients and cut flower varieties that I like to grow, and you can see how I assemble this special bouquet. Further, this bouquet was timed right at the precipice of that first killing frost, so I think you'll enjoy seeing the clips of "Frostmas" on the farm the next morning!
Award Winning Floral Design
The other piece that will stand out for me from October is a wall-piece that I designed for AIFD Northwest Chapter's Foraged and Found for Fall design contest. Now, you probably know that I need little encouragement to get out there and explore nature, foraging for interesting thing that I can use in my designs. Displayed using a ladder to catch the best light, this design is a case of this florist "at play" and I had a marvelous time making this 100% compostable design. Here is a photo of what I came up with to express autumn. I'm proud to say that my design was elected by the blind judging panel for the Top 12 and was voted "People's Choice". More on this sustainable design, my inspiration, and the foraged materials that I used from mushrooms to natural water tubes in an upcoming blog post!
My thanks to the judges for this Top 12 placement and to all of you who voted for People's Choice in this fun design contest by AIFD Northwest.