Caring for your blooms.
When you purchase flowers from our roadside stand (or anywhere, really), there are a few steps you can take to promote their vase life in your home.
1. Come Prepared
Bring along a container filled with water when you come to pick up your flowers. Minimizing the time spent out of water is integral to keeping flowers happy. If you forgot, don't worry: some wet newspaper or paper towels wrapped around the stems can work in a pinch.
2. Go Straight Home
Don't make stops on your way home in hot weather – a short time in a hot vehicle is a sure way to turn your flowers into mush.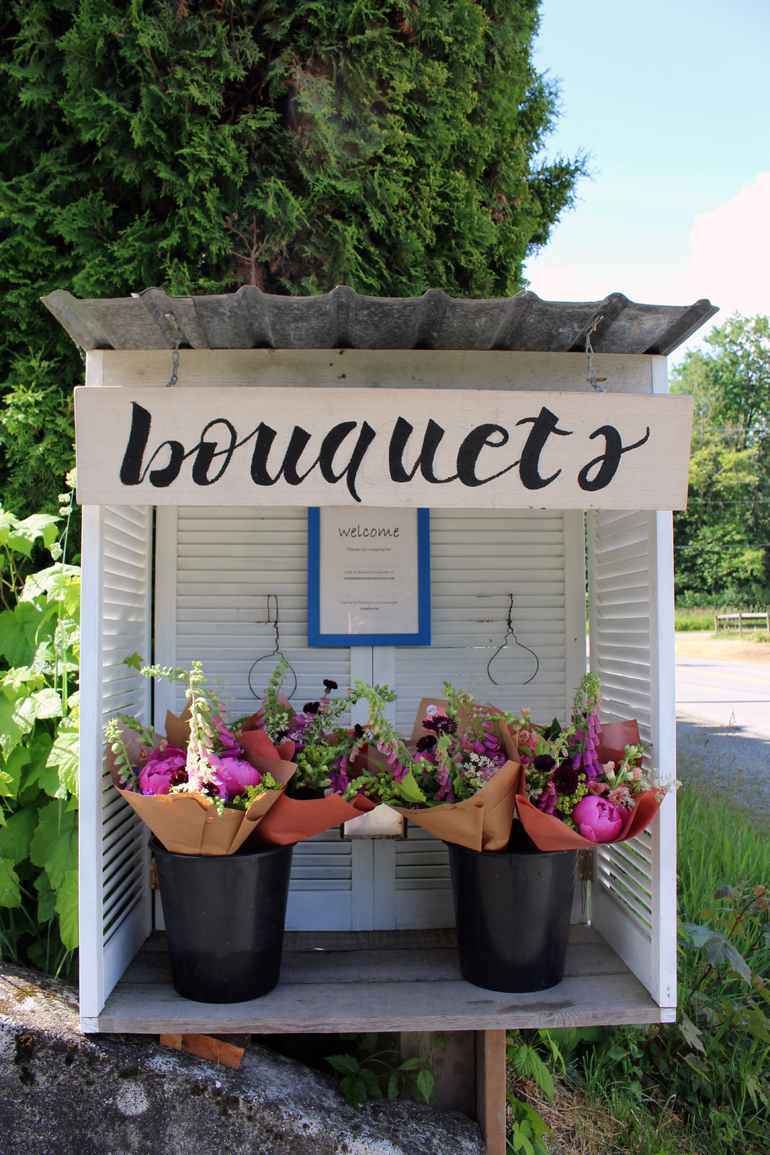 Fresh flowers on our roadside flower stand in Langley, BC.
3. Give A Fresh Trim
When you get home, give your flowers a fresh trim on an angle with a sharp knife and place them in fresh water. Make sure stems are clean with no foliage below the water line, which encourages water to dirty faster.
4. Keep It Cool
Display your flowers in a cool place that won't receive direct sunlight. Placing them outside overnight is a great way to refresh them. If this is not possible, a fridge can work; but keep them away from the fridge fan which can cause freezing.
5. Avoid Fruit
Fruits and vegetables emit ethylene which can decrease vase life and cause wilting. That bowl of fruit on your counter should be moved away from your flowers. 
6. Change Water Daily or Use Flower Food
Bacteria growth in water has a significant impact on vase life. Remove flowers daily and rinse the stems in water. Wash the vase and recut your stems on an angle before placing back in fresh water. You can add a few drops of bleach to your water to inhibit bacteria growth. If you are using flower food in the water, you shouldn't need to change the water as frequently. A DIY flower food you can try is 6 tablespoons of a clear lemon/lime soda in 1 litre of water.
Special order designer bouquet made by Marie.